WinSpeakerz for Windows 95
True Audio has released its latest version of WinSpeakerz enclosure-design software designed for the Windows 95 operating system. This software has evolved over the years. It began initially as "AudioCAD" for the Macintosh in 1989, followed by a more elaborate version on a Macintosh platform as in 1990. Because of the popularity of the PC platform, the company translated to Windows 95; the first version of WinSpeakerz 1.0 was released in 1996.
This latest version of WinSpeakerz, Version 2.0, has the same features as the previous Win95 release with the addition of diffraction-loss modeling, automotive cabin pressure field response, and the ability to account for series resistance in a box/driver simulation.
WinSpeakerz comes with a very professional 275-page manual, three 3.5" disks, and a hardware lock that connects between your parallel port and printer. The install routine is initialized manually using the start/run command and loads the program into the Windows 95 program-files subdirectory by default.
WinSpeakerz is primarily a box-design program, although facilities are included for crossover design using fixed resistance formulas. The opening screen has a menu line with nine pull-down menus, including File, Edit, Analysis, Display, Vent, Box, Crossover, Window, and Help. Directly below the menu line is a series of push buttons, which allows faster access to many of the commands contained in the pull down menus.
At the Push of a Button
Twenty-five push buttons are arranged into five groups. The first group controls the measurement domain and allows the selection of standard box modeling (half-space response curves), diffraction-loss modeling (anechoic), or automotive-cabin modeling (closed field). Figure 3 shows the standard analysis half-space mode, including the five available graphs (SPL, excursion, phase, group-delay, and impedance). Figure 4 illustrates the anechoic diffraction loss model, and Fig. 5 gives the closed-field automotive-cabin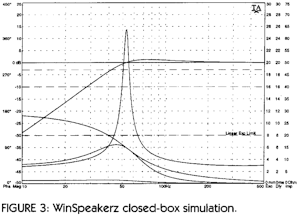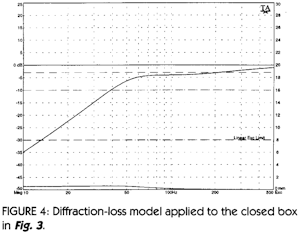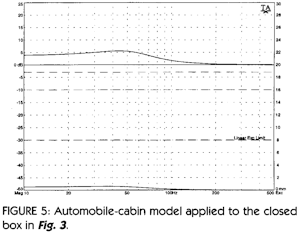 model; all three measurements involve the same sealed-box simulation.
The second push-button group also has three functions. The first button calls up the driver library, which comes with about 950 different manufacturer's driver specifications. This driver database can be expanded and modified, and, once it is selected, an individual driver's T/S and mechanical specs can be transferred to the analysis part of the program. Button two in this group employs the System Editor, which controls